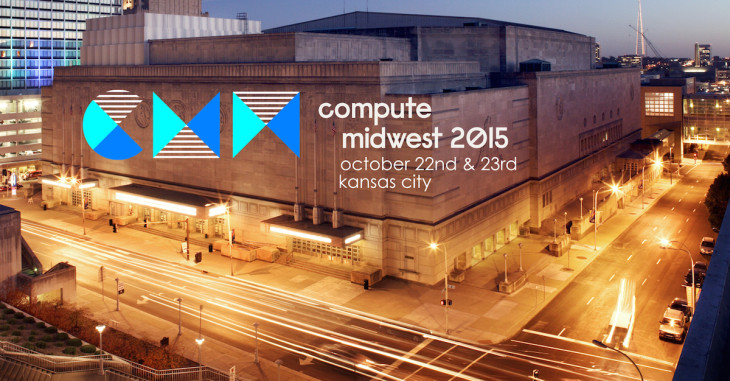 Compute Midwest returns to Kansas City this week, Oct. 22-23, at Municipal Hall in downtown KCMO. Now in its fourth year, the conference (much like KC Digital Drive) was founded around the time a certain large tech company had chosen KC for its big launch.
As Compute Midwest founder Michael Gelphman recently told Inc.:
When Google Fiber chose Kansas City as the first place to install their high-speed service, we saw the huge opportunity to drive innovation & we wanted to help inspire people with big ideas to go out and create their own. – Michael Gelphman of Compute Midwest
Compute Midwest has certainly lived up to its promise of inspiring people to discuss big ideas. Year after year, Gelphman and his team deliver on this first and foremost by assembling a really great lineup of big thinkers from all around the tech industry. This year's lineup is no exception.
But as with many techie conferences, it can be hard to know who's who at a glance. So, in honor of this week's ALCS and hopefully World Series champion Royals taking the field to anthems of their own, we've assembled a cheat sheet of this year's Compute Midwest speakers along with personalized song suggestions for when they walk up to knock one out of the park, er … off the stage.
Compute Midwest Speakers and Their Walk-Up Songs
Bryant Walker Smith – Self Driving Car Expert
Wait, who?: Expert on autonomous vehicles who teaches law at Univ. of South Carolina and is frequently quoted in the media.
When he's speaking: Friday at 9:10am
Presumptive walk-up song: "Cars" by Gary Numan
Dr. Cynthia Breazeal – Robotics Pioneer, Founder & Chief Scientist, Jibo
Wait, who?: Robotics professor at MIT, famous for her TED Talk on personal robots, as well as for creating her own robot Jibo, who likes to help you around the house.
When she's speaking: Thursday at 10:40am
Presumptive walk-up song: "Mr. Roboto" by Styx
Jeff Hawkins – Founder, Palm; Founder, Numenta
Wait, who?: Founder of famous pre-iEverything mobile device the Palm Pilot, now a big brain in neuroscience and machine intelligence with Numenta.
When he's speaking: Friday at 9:10am
Presumptive walk-up song: "Hold My Hand" by Jess Glynne
Marco Villa – President, Tyvak; Former Director of Mission Ops @ SpaceX
Wait, who?: Citizen spaceman who helped the Dragon spacecraft get to the International Space Station and back. Now launches nanosatellites and cubesats as President of Tyvak.
When he's speaking: Thursday at 9:55am
Presumptive walk-up song: "Satellite" by Dave Matthews
Robert Scoble – Chief Futurist, Rackspace
Wait, who?: Silicon Valley selfie king & ex-blogger who also happens to be a brilliant tech-business soothsayer.
When he's speaking: Friday at 11:35am
Presumptive walk-up song: "The Blog" by Datarock
Jenny Lawton – Chief Strategy Officer, Little Bits; Former CEO, MakerBot
Wait, who?: 3D printing pioneer at MakerBot, now with a $44.2 million company that designs kits for corporate types to prototype ideas.
When she's speaking: Friday at 9:55am
Presumptive walk-up song: "The Maker" by Daniel Lanois
Stephen Wolfram – Founder & CEO, Wolfram Research; Creator of Wolfram Alpha
Wait, who?: Computer scientist, theoretical physicist and entrepreneur who created the famous Wolfram Alpha answer engine, which is kind of like a Google that returns one result: the right answer. Go on, ask it when the world will end.
When he's speaking: Friday at 12:05pm
Presumptive walk-up song: "Ask" by the Smiths
Bonus material: Wolfram speaking at KC Digital Drive's 1 Billion Bits meetup June 2014:
Andy Grignon – Built First iPhone For Steve Jobs; Partner, Siberia
Wait, who?: Longtime Apple engineer, now no longer with the company, who worked on iChat, the iPod and built the first iPhone. Had a very unusual, very profane title.
When's he speaking: Thursday at 2:50pm
Presumptive walk-up song: "Call Me Maybe" by Carly Rae Jepsen
Rodney Williams – Founder & CEO, LISNR
Wait, who?: Founder of "data-over-audio" app LISNR, which turns your smartphone's speaker or microphone into a trigger to deliver messages to your phone based on sounds around you. For example, if you're listening to Drake on your car stereo, your phone could hear it and text you about the upcoming Drake show in your city.
When he's speaking: Thursday at 12:05pm
Presumptive walk-up song: "Hotline Bling" by, yep, Drake
Stephen Pair: Bitcoin Expert; Co-Founder & CEO, BitPay
Wait, who?: Founder of BitPay, the largest bitcoin payment processor in the world, serving more than 60,000 merchants on six continents.
When he's speaking: Friday at 2:50pm
Presumptive walk-up song: "Ride Wit Me" by Nelly
John Rogers: Co-Founder, MC10
Wait, who?: Professor of engineering and holder of 80 patents, technical founder of MC10, a new company focusing on wearable devices and biometric data.
When he's speaking: Thursday at 1:50pm
Presumptive walk-up song: "Material Girl" by Madonna
Daniel Kish: TED Global Speaker & Echolocation Expert
Wait, who?: A man who's been blind since he was 13 months old and — mindblowingly — taught himself echolocation (aka, sonar) to navigate the world.
When he's speaking: Thursday at 11:35am
Presumptive walk-up song: "I Can See Clearly Now" by Johnny Nash
Clint Andrew Hall: Facebook
Wait, who?: Hometown KCMO boy now serving as Mobile UI Engineer for Facebook
When he's speaking: Friday at 1:50pm
Presumptive walk-up song: "Hood Go Crazy" by Tech N9ne
Michael Wilson: Founder, Niall
Wait, who?: Kansas City luxury watchmaker.
When he's speaking: Friday at 10:40am
Presumptive walk-up song: "Tik Tok" by Ke$ha
Michael Gelphman: CM Host; Founder, The Disruption Institute
Wait, who?: Compute Midwest organizer and host-with-the-most, founder of mobile app academy the Disruption Institute, driving force behind KCITP, and all-around swell guy.
Presumptive walk-up song: "Daft Punk Is Playing at My House" by LCD Soundsystem