After a hiatus in August, the Gigabit City Summit returned with its biggest panel to date.
The size was fitting, as the topic for the Sept. 25, 2012, global roundtable was big, too: "Open Government, Big Data, and Innovation." The driving question was how to take lessons in collaboration, open source, and data from the private sector and apply them to the public sector in order to build "ecosystems of innovation" in our smart cities of the future.
Whereas previous Gigabit City Summits have showcased a series of presentations, GCS3 resembled a sprawling talk show, with fewer PowerPoint slides and more back-and-forth between participants.
Co-chairing the panel along with GCS founders Aaron Deacon (Curiolab, Kansas City) and Dave Sandel (Sandel & Associaties, St. Louis) was Jay Nath, Chief Innovation Officer for the City of San Francisco.
The mood was lively as smart city experts from Barcelona to Singapore to Kansas City (and points between) sparred across international time zones in the Cisco Kansas City TelePresence room. What follows are only some of the highlights — a SportsCenter version of GCS3. For the full play by play, check out the archived WebEx presentation, courtesy of the Smart + Connected Cities Institute.
New Collaborative Models
After introductions, Nath opened the government-focused portion of the session by addressing how to create the necessary paradigm shift within the public sector to make way for innovation.
The key factors for change that Nath outlined were making sure that city leaders understand the value of innovation, placing the right executives in charge of the right initiatives, and soliciting feedback from both civic employees and the wider community at every turn. Nath implied that even in a city as progressive as San Francisco, a perspective change must take place in American politics in order to bring about the collaborative environment needed to foster innovative thinking.
Core team member Bill Hutchison (Hutchison Management, Toronto/Moscow) then stressed that good physical communication is at the heart of collaboration, and having a broadband infrastructure in place aids in breaking down silos and fostering teamwork.
Dialing in from Singapore, Gordon Falconer (Director of Urban Innovation Practice, Cisco Internet Business Solutions Group) pointed out that because "millennials are more collaborative in their working nature," cities must be geared up from an infrastructure perspective to facilitate open collaboration. "It's the way things are going," Falconer said.
But, argued John McGurk, Chief of Staff to the Mayor at City of Kansas City, Missouri, "Collaboration doesn't always work in a political environment."
McGurk, who is working in the city's search for a new chief innovation officer, noted that mediation is often a more useful skill than collaboration when it comes to politics. "We're in a mid-20th century process that shies away from innovation," he said, so it's important to mediate and find common ground in order to advance forward-thinking initiatives. "You've got to put the bumpers up while you're bowling."
Nath pointed out that it's important for city CIOs to act as bridges between the government and the community, and that in order to do accomplish that, CIOs must sometimes educate the citizenry about the inner workings of government and "make the community part of the feedback loop for creating new services and designs."
Core teamer Josep Pique of the 22@Barcelona project noted that the community must be engaged on a technological level, too — bandwidth, therefore, is key. A big proponent of the cloud, Pique asserted that cities should be "building highways to the cloud" to provide people with access to the future's public idea space. His fellow Barcelonan Esteve Almirall, leader of the European Open Cities Project, pointed out that sometimes competition can be just as effective as collaboration in driving innovation.
The private sector is filled with examples of businesses that have used innovation to boost profits. Neil McEvoy, founder of Toronto's Cloud Best Practices Network, shared wisdom on how cities can learn from businesses such as Hewlett-Packard, which developed a suite of services to help companies "break IT innovation gridlock."
How to break gridlock? Much of any given company's budget, McEvoy said, is tied up in maintaining existing systems and infrastructure. By reallocating some of that budget for developing new ideas, companies — and by extension, governments — can foster innovation without seeking new funding.
Take the procurement process: in order to acquire essential services, cities must come to the best possible solutions while promoting competition and minimizing cost. Traditionally, procurement has not favored small businesses and startups due to inherent risk factors. But through programs such as the UK's G-Cloud initiative, the government has leveraged the power and flexibility of cloud computing to enable small tech businesses to participate in procurement.
Open data, too, has played no small role in this highly innovative new model; as more data becomes public, smaller developers are able to build apps that benefit the public good.  And that brings us to the second half…
Open Government & Big Data
As the discussion moved toward making government data more accessible, Frank Lenk of the Mid-America Regional Council (MARC), a nonprofit planning organization based in Kansas City, testified to the power of pulling data out of the backrooms and making it public and therefore useful to developers.
"It's opening up that big store of data locked in government that has the potential to add value to public and private sectors," Lenk said.
Testifying to the power of open-source models in government was the next presenter: Gunnar Hellekson, Chief Technology Strategist of Red Hat, a global leader in open-source technology (which generously sponsored GCS3).
Hellekson began by citing an unlikely example of a government agency actively working to be more open and innovative — the U.S. Department of Defense, which recently released its second innovation roadmap, "Open Technology Development: Lessons Learned and Best Practices." Hellekson also praised the U.S. CIO's new Digital Government Strategy, which aims to use open technology to innovate and deliver better services to citizens, faster.
How are these feds becoming more innovative? Hellekson explained that they are learning how to move more quickly through the S-curve of innovation. This curve shows how an idea for a product moves from (1) the amateur/hobby stage (think an inventor working out of a garage), (2) to the product/commercial stage, (3) to the commodity stage.
"It's not about creating a better traffic light, it's about moving through this cycle quicker to get to the next round of innovation," Hellekson said. "Open source is one of the most powerful mechanisms for moving a good idea through this cycle."
As readers of this blog already know, another cycle of civic innovation was developed by the Mayors' Bistate Innovation Team (MBIT) in Kansas City, which aimed to draw out a playbook for leveraging Google Fiber. Sandel therefore took the opportunity to share a page from that book, titled Playing to Win in America's Digital Crossroads.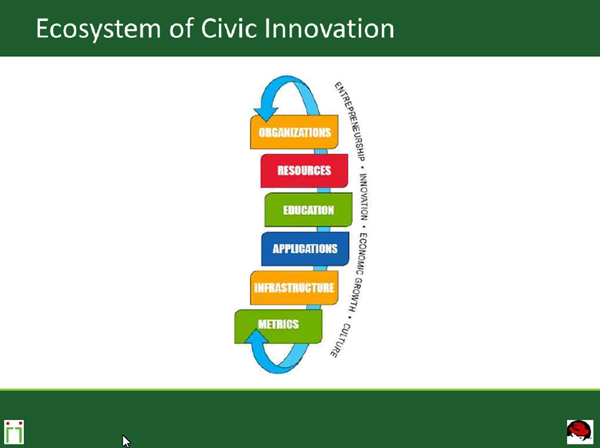 MBIT's "Ecosystem of Civic Innovation," as you can see, draws in various entities of civic life — from government leaders, to entrepreneurs, to organizations, to infrastructure — to show how they can unite around common principles and concepts to drive the circulation of ideas  into tangible, measurable results.
Of course, turning great ideas into real-life results is one of the biggest challenges in innovation, period. Speaking to that point, Almirall next presented his vision of "Open Innovation in the Public Sector."
"It's not about having potentials," Almirall said, "it's about being able to mobilize."
To ensure mobilization, governments must not only be more open (open data, open fiber networks, open sensor networks), they must support user-driven innovation, promote growth, and reinvent citizenship. Almirall discussed the Commons4EU project, of which he is leader, as an example of city-driven open innovation.
Falconer noted that often the problem in mobilization is not the manner but the speed. His fellow Singapore transplant Andres Sevstuk (Leader of the City Form Lab, Singapore University of Technology & Design) took the floor to discuss best practices for government-driven innovation.
Emphasizing that technology is a means, not an end, Sevstuk talked about how a government's role in innovation is not only to provide data but to also develop common standards for using that data. In looking how to solve real-world problems with technology, cities must get their best citizens involved.
Conclusion
Many other topics flew as the discussion came to a close: how government can best (and legally) collaborate with the private sector, how cities can learn from or compete with one another, how the cloud will redefine the notion of place. No doubt these topics will emerge again and again in future GCS sessions.
At the end of the session, a couple of things stood clear:
• That innovation is driven more by humans working together than by technology-based solutions.
• That while private-sector businesses will continue to innovate organically, it's on city leaders to engage their citizens and make them a part of the innovation process to truly build a smarter world.
Stay tuned for the next Gigabit City Summit: "Advanced Degrees in Digital City Planning," scheduled for October 24, 2012, at 7 a.m. CDT.
GSC3 Panel Particpants:
David Sandel – Sandel & Associates, chair
Aaron Deacon – CurioLab, moderator
Jay Nath – Chief Innovation Officer, City of San Francisco
Esteve Almirall – Leader of the European Open Cities Project, Barcelona
Neil McEvoy –  Founder, Cloud Best Practices Network, Toronto
John McGurk – Chief of Staff, Mayor Sly James' Office, Kansas City, MO
Manel Sanromá – CIO/CTO, Barcelona City Council
Andres Sevtsuk – Leader of the City Form Lab, Singapore University of Technology & Design
Ger Baron – Amsterdam Innovation Motor
Ray Daniels – Co-Chair, Mayors' Bistate Innovations Team
Gordon Falconer – Director of Urban Innovation, Smart + Connected Communities Institute, Singapore
Bill Hutchison – Chairman of the i-CANADA Alliance and special consultant to the Skolkovo development in Moscow
Gunnar Hellekson – Chief Technology Strategist, Red Hat