Digital Week / 1 Week KC
Back-to-back weeks focusing on smart cities, digital inclusion, and entrepreneurship
On the heels of the downtown streetcar opening, this May brings us back-to-back weeks celebrating smart cities, digital inclusion, and entrepreneurship in the Kansas City ecosystem and beyond.
Digital Week, May 16-20, 2016
KC Digital Drive, the KC Coalition for Digital Inclusion (KCCDI), and the National Digital Inclusion Alliance (NDIA) have coordinated to host three complementary events focused on the digital future of cities. Digital Week will bring delegates and attendees from around the country for a focused week of learning and connecting in Kansas City. There are a mix of free and paid events with a variety of topics and target audiences, and we've included a number of opportunities for Kansas Citians to interact with our out-of-town attendees, to participate in Kansas City's leadership role in these critical conversations.
Gigabit City Summit, May 16-18, 2016
The Gigabit City Summit is the is the premier conference for leaders in cities that either have or are planning to build out gigabit fiber-optic networks and use those networks to support smart city infrastructure and ecosystems. Tickets to the Summit may be purchased individually, though the conference best serves communities who send delegations who are prepared for the collaborative, cross-silo work that most effectively drives community impact. If your metro area is sending a delegation (5 or more individuals), you may be eligible for a delegation rate (including the Kansas City metro area). Please email gigabitcity@kcdigitaldrive.org for more details.

You can also purchase individual track tickets for a few 3-hour Summit sessions. These tickets are intended for regional city and university partners, educators and digital inclusion practitioners who may not be able to attend the whole conference.
We have also arranged some evening happy hours as an informal space where local and national partners with common interests can meet and share. Even if you can't get away from work, join us for happy hour! (Registration pages coming soon.)
Net Inclusion Summit, May 18-19, 2016
The Net Inclusion Summit participants will discuss current and potential local, state and federal policies crafted to increase digital equity and share broadband adoption best practices and new strategies.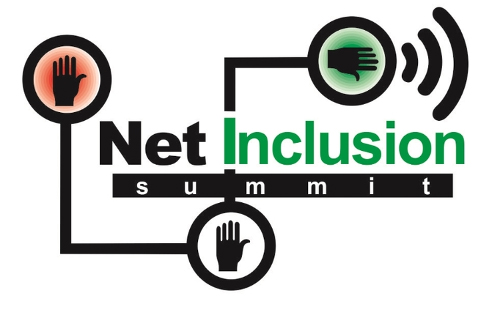 Effective digital inclusion public policy relies upon strategies being field-tested by the many community-based organizations, libraries and local governments who are working to increase equitable broadband access and use across the U.S. Net Inclusion 2016 is a unique opportunity for practitioners and policymakers to share and document that important work .
Digital Inclusion KC, May 20, 2016
Kansas City area civic leaders and digital literacy practitioners who are committed to ensuring that everyone in the community reaps the benefits of digitally-connected life will convene on May 20 at the Central Library in downtown Kansas City, Mo. for a morning of discussion, idea-generation and hands-on work, organized by the KC Coalition for Digital Inclusion. Building on the success of 2014's Digital Inclusion Summit and 2015's Digital Inclusion Town Hall Meeting, Digital Inclusion KC 2016 will leverage our City's newfound reputation as a leader in this area to introduce a framework for expanding our impact in the years ahead.

The KC Coalition for Digital Inclusion exists to facilitate collaboration among organizations and initiatives working to bridge the digital divide in order to maximize resources for the greatest impact. Our vision is for every citizen and household in the Kansas City metropolitan area to have access to the Internet, the equipment needed to use it and the skills needed to take advantage.
Now in its fifth year, 1 Week KC was designed as a celebration of entrepreneurship in Kansas City. Managed by KCSourceLink, 1 Week KC offers a concentration of events and opportunities to engage the Kansas City's startup community, with offerings like Startup Crawl, Sprint Accelerator's Demo Day, E- Day at the K, and Startup Waffles.