Expungement Events Attended
Expungement Applications Completed
Project Overview
The Clear My Record project aims to develop a web-based application that allows a person with a criminal conviction to determine if the crime is eligible for expungement and to complete an application for expungement for filing with the court. 
Currently, no such system exists and expungements are complicated and cumbersome for those affected, often processed by either hiring a lawyer or through an expungement event hosted by Kansas Legal Service where applicants are given their criminal conviction information and complete their own application using Microsoft Word. 
This project builds upon longstanding work and partnership with the UMKC School of Law to build a tool for pro bono lawyers and students as part of a Missouri-focused Expungement Clinic the law school is standing up, and where KC Digital Drive co-hosted an Expungement Day in 2019 that attracted nearly 1,000 people in need of assistance.
The Missouri-focused project has secured significant grant funding that will fund the development of an application over the next three years that is specific to the complicated expungement processes and legislation in Missouri. Our Kansas-based Clear My Record Project is being developed in parallel with the Missouri project, and is being funded through a grant from the Local Initiatives Support Corporation (LISC).
This project will be working closely with the District Attorney Offices of Wyandotte and Johnson counties to host expungement events, solicit their feedback and input throughout the process, and to promote the expungement app through their offices and probation officers.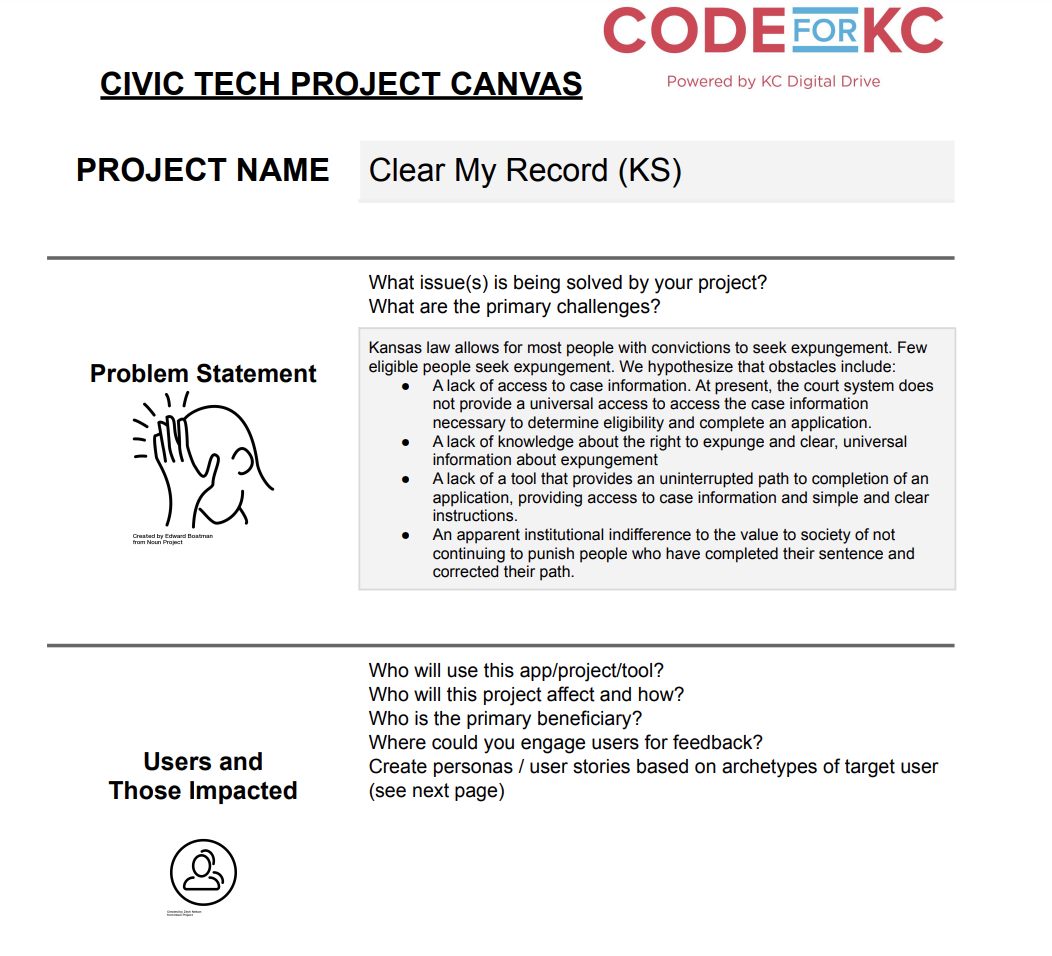 Project Status
Over the course of 2021 and 2022, the Clear My Record project team conducted a series of interviews with prosecutors, defense attorneys, court offices, and Kansas Legal Service attorneys across the state to better understand the current expungement process for Kansas.
Based on our findings from these interviews, the team developed a prototype application that KLS attorneys could test at public expungement clinics. These clinics are open events where individuals with criminal records are invited to come and receive free legal assistance in filling out their applications for expungement. To build the prototype, the team used Jotform – a low-code software platform for building interactive forms.
Using Jotform allowed the team to quickly design a questionnaire that would take in information about an individual's criminal record and output a properly formatted PDF file ready for printing and submission. 
Throughout 2022 and 2023, the team have deployed this prototype at 10 expungement clinics across Kansas, gathering data and to inform an iterative development process. As of the end of September 2023, the tool has been used to process 450 applications for 218 individuals. Over time the app has also been expanded to include additional functionality. For instance, after the Kansas Legislature passed legislation making it easier for individuals with drug charges to expunge their records, we added functionality allowing the tool to generate the necessary forms to request removal from Kansas' Drug Offender Registry.
Currently, the team is finalizing the tool in preparation for deployment in legal self-help clinics across the state, and creating the foundation for a second version of the application that will feature additional usability improvements and expanded functionality.
Read more about the team's 2022 activities here.