Event Date: May 11, 2023
Time: 5:30 pm – 7:00 pm
Location: Populous – 4800 Main St #300, Kansas City, MO
Admission: Free
Did you know that Kansas City is at the forefront of the esports scene? Kansas City has a professional esports team. Area colleges have esports teams that offer students scholarships for the sport. Kansas City architectural firms are designing esports arenas around the world. There's even a High School Esports League that coordinates esports for area teens.
Join us on May 11th from 5:30 – 7:00 p.m. for DIGITAL SCENE – KC: esports. Connect with KC area digital media professionals in a casual, happy hour event while you learn more about what's going on in KC with esports.
Network with other KC area digital media professionals and digital media educators
Meet esports leaders and professionals from KC esports programs
See best practice examples of how esports programs are being implemented in Kansas City
Try your hand at competitive esports experiences during the event
Guest Exhibitors
Who Can Attend?
Digital media professionals and digital media educators.
This event is free but you must REGISTER to attend.
Location
The event will be held at Populous in the Grandstand area. Patrons will take the elevator up to the third floor. There will be a Populous person in the lobby to provide access to the elevator.
Parking & Access Instructions:
Parking is available along 48th Street or Main Street. Enter the building from the 48th Street entrance. You may also use the visitor parking in the garage on 48th Street. You will need to exit the garage and still enter through the 48th Street entrance, the garage doors will be locked. You will see the Populous banner at this 48th Street entrance (pictured below).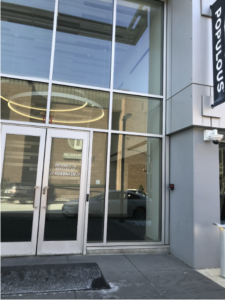 As you enter the building take the hallway to your right to the elevators. Someone from Populous or KC Digital Drive will greet you at the elevators and assist you to the 3rd floor. On the 3rd floor you will go past the reception desk to the Registration Table where you will check in and get your name badge. The networking event will take place on the 2nd floor. After registering you can proceed to the 2nd floor from the stairs next to the registration table or by means of the elevators.
Accessibility
All parking and event locations related to this event are handicap accessible.
This event is part of the DIGITAL SCENE KC series and is sponsored by: