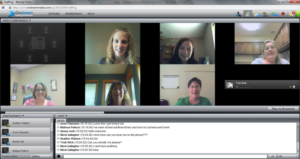 You might not associate rural locations with cutting-edge technology. Yet it's exactly those areas that proved to be one of the many catalysts that prompted Norton, Kan.-based Valley Hope Association to launch an online treatment and therapy program in 2007.
Known as Accessible Care/Effective Support Services (AC/ESS), the online portal gives patients undergoing treatment for substance use disorders an always-accessible community that's rich in resources and guidance.
"AC/ESS started because we had patients discharging to rural locations with no treatment options, or their work schedules didn't allow for outpatient treatment," says Holly Krebsbach, clinical director of telehealth services, in a presentation about the program to the KC Digital Drive Health Innovation Team. "We wanted to help overcome other limitations and barriers, too, including social anxiety, disabilities and childcare."
AC/ESS: A Closer Look
AC/ESS offers three online programs: Intensive Outpatient Program (IOP), Family Intensive Treatment (FIT) and Continuing Care (CC). In many cases, patients have already completed a Valley Hope residential program and then transition to AC/ESS for continuing care. Regardless of the specific treatment plan, the goal of AC/ESS is to keep patients in treatment longer.
For an online portal like AC/ESS, that includes stringent monitoring to ensure patients aren't just logging in, but also participating. Upon enrolling in the program, patients are assigned a counselor and a group, then tracked to confirm participation in group sessions, discussion forums, modules and other activities.
Patients also have access to a mobile app created with Chess Mobile Health, which Krebsbach says has "been a great asset for us—another way to connect with our patients."
App features include recovery assessment surveys, goal tracking, journal entries and a meeting locator. One particularly innovative—and effective—feature is a high risk location notification. When the app/device are in proximity to a trigger place (identified by the patient), a text or video alert will activate. These alerts are configured by patients and often include personal photos, messages from family members, etc., to deter the likelihood of substance use.
Although AC/ESS has extended accessibility and support to a wider network of patients, the virtual format might not be a fit for every patient. The intake process includes an assessment to gauge a patient's comprehension and tech fluency to help determine if AC/ESS is the ideal program.
"That first week is critical in terms of assessing technology competency and program fit," Krebsbach says.
Statistics Show Success
Now that AC/ESS is in its ninth year (with a fourth version of the access portal soon to launch), the Valley Hope team has been able to gather a wealth of outcomes data that speaks to the efficacy of the program. In short? It works—and it works well.
Consider one particularly compelling statistic: sobriety data, measured as the percentage of time sober during treatment. In the six-week IOP program, 58% of on-the-ground participants were sober for the duration of the program, compared to 80% of online participants. And in the one-year Continuing Care program, 62% of on-the-ground participants maintained sobriety for the duration, compared to 74% of online patients.
These sobriety stats are critical. Yet the Valley Hope team is also looking to answer more open-ended questions through the duration of each patient's AC/ESS treatment.
"We're looking for progress," Krebsbach says. "How is it helpful to them?"
One interesting finding so far? The audience demographic that typically has the most success with AC/ESS. You might think it would be a younger, more tech savvy audience, but the patient data paints a different picture.
"We've seen a better response from patients 36 years old and older," Krebsbach says. "The folks who do well have a higher level of accountability, and usually family involved. Professionals do exceptionally well in the AC/ESS program."
What's ahead for AC/ESS? Continuing evolution of the online portal is a primary focus. The fourth version, soon to be released, will expand compatibility for mobile devices. Yet regardless of new or changing features, two core areas of focus remain constant for the Valley Hope team: progress and safety.
"We want to be able to show that we're taking care of patients and that they're succeeding," Krebsbach says.
To learn more about Valley Hope and AC/ESS, visit the Valley Hope website.