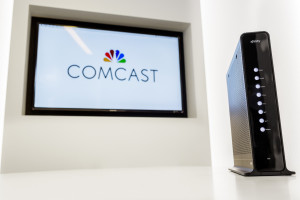 Comcast announced a few days ago that it will be launching a new tier of 250 Mbps Internet speed to customers in the company's entire Independence and Olathe service area.
Called "Extreme 250," the upgrade is being heralded as a precursor to the arrival of gigabit service to Comcast's KC metro customers.
Previously, 250 mbps speed was available to Comcast customers in Olathe, Blue Springs, and Raytown, a service area encompassing around 70,000 subscribers, according to a Comcast spokesperson.
With this new initiative, that area has now been expanded to 207,000 homes.
According to the official release, the "Extreme 250" service is "one of the final steps to bringing multi-gigabit internet speeds to Comcast's entire Kansas City service area in the coming months."
From the release:
"Technology is a passion across the Kansas City area, and we're delighted to offer all Independence – Olathe area Comcast customers the new Extreme 250 Mbps tier that will allow them to do more online, across multiple devices," said Sam Hassan, Regional Director of Sales & Marketing, Comcast – Kansas City.  "We're also excited about the many opportunities ahead to increase speeds as we look to the future of making multi-gigabit service available to our entire Kansas City service area."
That multi-gigabit service will come via the DOCSIS 3.1 platform, which Comcast is currently testing nationally. When DOCSIS is fully deployed, Comcast subscribers will be able to access the gigabit over their existing cable connection.
Sounds like Comcast may not be bringing a fiber service such as its 2-gig Gigabit Pro network (available in Atlanta), to KC.
But even if it's not fiber gigabit, more speed and more competition are good things for Kansas City customers.
Extreme 250 is available immediately. Pricing is as follows:
Current promotional introductory offer of $69.99 / month for 24 months
Current Xfinity Internet customers can upgrade to Extreme 250 Mbps for an additional $20 / month
Regular price for Extreme 250 Mbps is $149.95 / month